Why Should You Get a Reputation Management Service for Your Business?​
One of the crucial aspects that can make or break a business is reputation management. In this era of the internet, people usually check online if a product or service is worth their money. Hence, reputation management is vital to growing your business. Having negative reviews or a weak online presence may cost a lot to your company. That is why many companies rely on business Reputation Management Services to enhance their online presence and credibility.
Reputation management firms help counter negative online content and promote positive reviews, blogs, and articles supporting your business.
What Exactly Means By Reputation Management?
Online reputation management includes monitoring and shaping your business's online presence by highlighting your company's positive reviews, shadowing, and decreasing the negative ones. A typical ORM company usually provides you with review management, Search Engine Optimization, public relations, social media marketing, content development, and customer service.
Strategies For Reputation Management
Reputation Management Experts use the following techniques for reputation management:
Keeping a check on online reviews and ratings
Organizing and managing online content
Public relations
Devising and utilizing crisis management
Keeping A Check On Online Reviews And Ratings
Top reputation management companies monitor websites and social media for the mention of the individual or the client's company and respond to any negative reviews.
Organizing And Managing Online Content
Best reputation management services utilize this technique and promote positive content about the company or person and remove or manage any negative content that might harm the reputation. Articles, blog posts, social media content, and reviews and ratings are a part of this.
Public Relations
Public relations is vital to make your organization's online presence strong. This involves holding conversations with stakeholders and customers and engaging with them through social media and even other platforms.
Devising And Utilizing Crisis Management
The Best Online Brand Reputation Management Company always knows what to do, even in extreme situations. Crisis management involves devising a plan and then implementing it in any event or situation that might be threatening the business' reputation.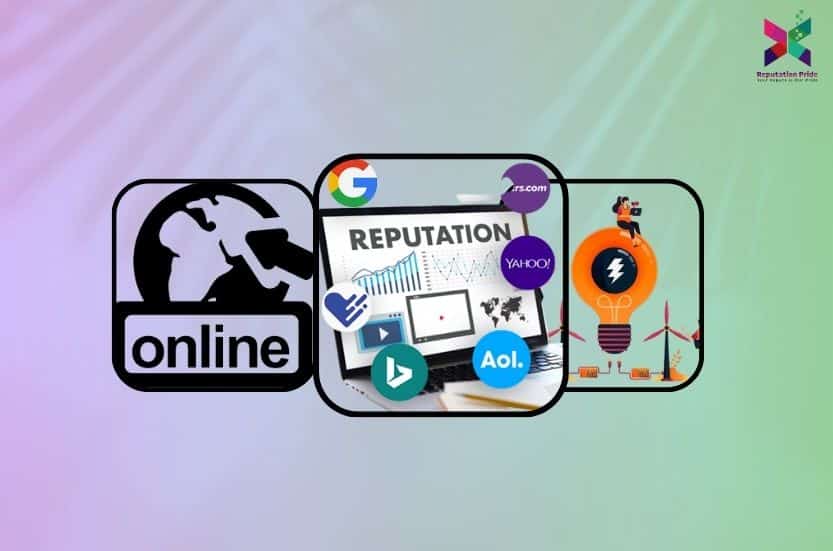 Importance of Reputation Management Services
In this competitive business era where every single organization is striving to make their online presence and reputation, what really can help you stay two steps ahead is a reliable reputation management agency. Not only a positive reputation helps maintain your loyal customer base, but it also aids in upholding your market value.
Following are a few of the many benefits you can get by opting to get reputation management services.
Maintaining A Competent Image
Among huge layers in the market, organizations, especially the small ones, may find it challenging to have their sot. That's where reputation management comes in. With a well-designed and executed reputation management strategy, your firm will appear more professional and credible to customers. The popularity of digital platforms has undoubtedly made it a lot easier to create and introduce your business internationally as well as maintain a positive image.
Strong Online Presence
Undoubtedly, most clients rely on the internet and social media to get information about any product or service they're going to be getting. One of the most efficient strategies to boost your online presence is Search Engine Optimization (SEO). You might not even have an idea of how a well-developed SEO strategy can dramatically improve your business presence and customer base.
Tackling Misleading Information
There are so many people who post negative comments and reviews about companies on websites. When such posts or comments are not removed right away, they might result in the unpopularity of your organization and eventually drop your business. To avoid this from happening, top reputation management companies take care of such issues and tackle these malicious acts before they cause a big problem for you.
Boosting Revenue
When your business is recognized, and you're competitive with the big players in the market, people see your business as credible. As most of the company dealing is based on trust, your business can get recognized faster, which results in more people reaching out to you and ultimately getting you higher revenue.
Gaining Customer's Trust
Getting your business a robust online presence can increase your customer base as well as make you more connected to the customers. Honest reviews and comments about your products or services can help you get an idea of the client's perception of your business, which makes you pinpoint any areas of improvement.
Success in business is based on many factors, like effective marketing, quality of service, and handling customers. However, a single bad review can turn out to be a nightmare for your business; hence, getting reliable reputation management services from a well-reputed agency is always a good idea.
Individual Reputation Management: Is it Really a Thing?
Big business hire reputation management to save billions, but what about people? Do they also need a reputation management service? The short and sweet answer is yes!
Most people in this contemporary world have the desire to be known as they don't want to spend their lives with only four friends knowing them.
Moreover, personalities are businesses. You must know how celebrities and influencers make money just because of "Their Name." When your name is known, people google it. They also go a step ahead and read reviews about your business. If there are negative reviews or controversies, they can damage your reputation in the blink of an eye. It's always safe to have Online Reputation Management For Individuals. This also involves uploading good photos on Facebook, making some Instagram reels, and updating and posting on LinkedIn.
Choose Authentic Reputation Management Services and Watch Your Business Grow!
The last few years have necessitated credible reputation management even more. With new social media and review sites, information spreads in seconds and can cause a massive amount of damage. To combat this, hire a reputation management agency. This will increase your business awareness as well as bring in more potential customers, which can boost your revenue. This will surely turn out to be the best investment you'll make for your business.